Throughout the past four to five years, the popularity of electric vehicles has continued to increase. More electric cars on the roads means there is an increased need for charging locations: here's where airports come in. Airports around the world are working to accommodate electric vehicle needs as the demand continues to grow.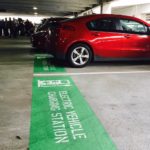 Hartsfield-Jackson Atlanta International Airport recently announced that they now offer 102 vehicle charging stations, and they plan to add another 200 stations throughout the next few years. Click here to read more about this ($1.3 million!) expansion. 
San Francisco International Airport has approximately 150 charging spots, but electric vehicle charging stations aren't just for the busiest airport in the world. Here at McGhee Tyson Airport (in Knoxville, TN), we've had vehicle charging stations since 2012, and Savannah Hilton Head International Airport even has Tesla superchargers.
As you all know, one of our main goals is to meet the needs of the traveling public, and charging their electric vehicles is becoming more popular and more of a priority.
How many vehicle charging spaces are available at your airport?
What have you done to promote this amenity to your travelers?